i had sunday off last week, which i acheived by making a complaint that apart from holidays i've booked (two) and the one time i called in sick, i have only had one sunday off since i started.

so i had last sunday off, and the sunday coming off. so saturday night i went out...took a bit of a risk and went somewhere i've never heard of before/no one else i know has been. went out with greg and his girlfriend which was okay, and not too third wheely. went here...
http://www.hs.facebook.com/event.php?eid=140412742647149&ref=mf

it was blinding. it was one of the best nights i have been to in glasgow. the club la cheetah is new, and its just a tiny low ceilinging room under a pub, with a tiny bar, so fucking smoky, SO LOUD, a few leopard print seats scattered about, and just one neon sign saying la cheetah.

the first guy on was data rape who was amazing. he was just some wee speccy guy twisting knobs- as it should be. you can enjoy his beats here. http://www.myspace.com/datarapebeats which i am currently doing.

the djs were only okay, the second guys mixing was pretty rudimentary, and they played stuff that was too housey or too techno pour moi. but the next guys on were squires of gothos, playing a mix of electro, bass, garage, dubstep.... and i danced solidy from 1am to nearly 3. i was dripping buckets, jumping around and grinning like a lunatic. i was almost pretty much sober. i had quite a few gins beforehand but i was just drinking water when i got there. everyone there was mashed off their tits, seriously mental atmosphere. (i mean it was one of those nights where complete strangers won't stop coming over to hug you and dance with you, and some of them even invited greg back to their house after.) and even though it wasn't that packed everyone was dancing like crazy. they were seriously amazing. honestly. i really want to go see them in edinburgh in two weeks. it was that amazing. the stuff on their myspace doesn't do them justice really, but you can admire their record covers...i mean they have got this really old school sound that has nothing to do with dance music now, one of them even has short hair with two or three sort of terrible dreadlocks and reminded me of kathy burke. haha. but it was exactly what the doctor ordered. the last dj played for the last half hour and played far too much banging techno for my liking however. we walked back through the warzone that is glasgow on a sat night and i was buzzing.

http://www.myspace.com/thesquireofgothos i really like triple drop.

sunday it was super sunny and my dad phoned me at ten am. i had made a big deal out of the fact i had a sunday off the week before, and my sister was off too so instead of just going to my grandpas in the evening like i do most sundays my dad drove my grandpa, sister, uncle colin and i to greenock.

it was beautiful. i cycled my dad's bike to the end of the esplanade, and i saw a huge jellyfish. also i ate a whole packet of lemon jammie dodgers. full marks! it was an excellent weekend.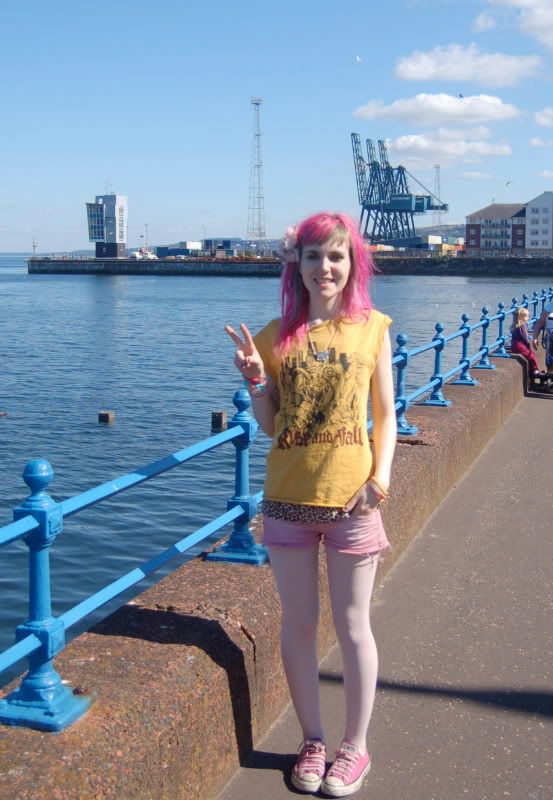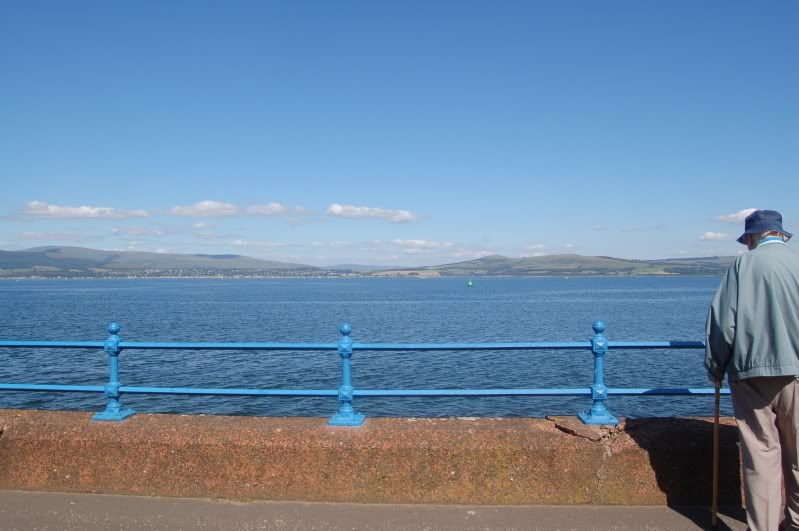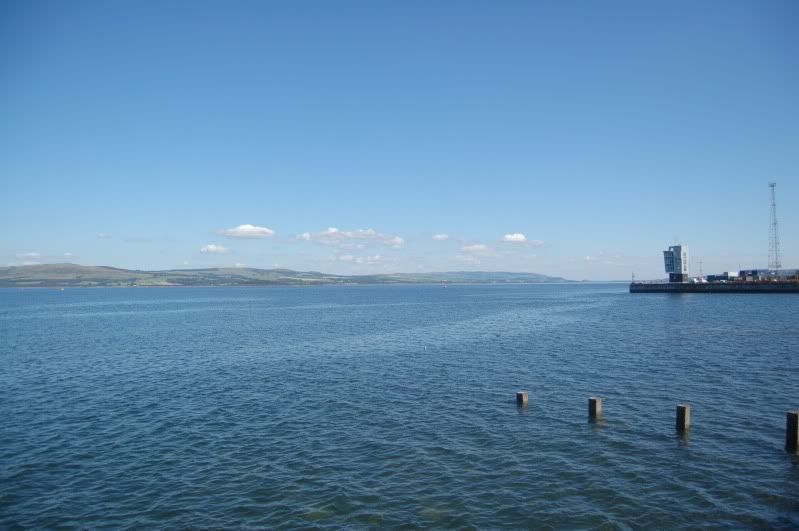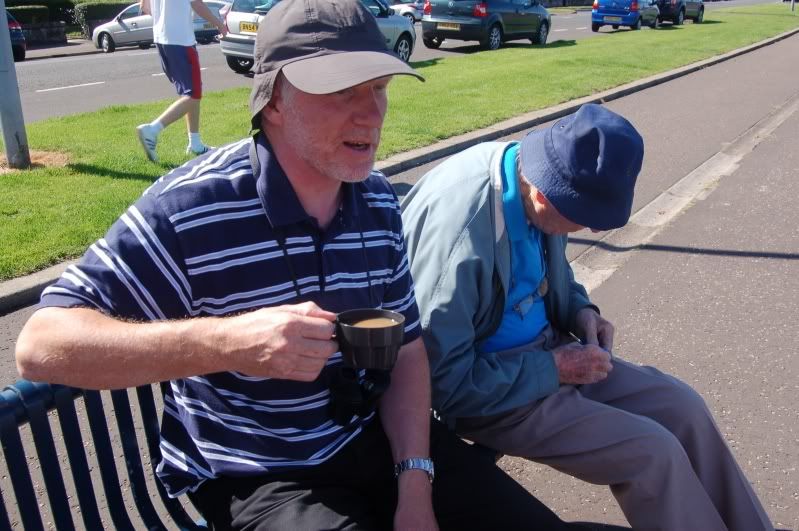 uncle colin and grandpa.



dad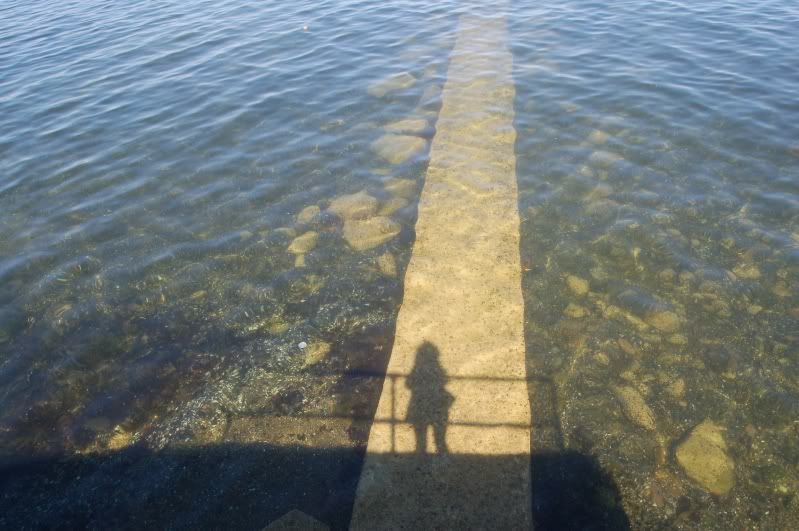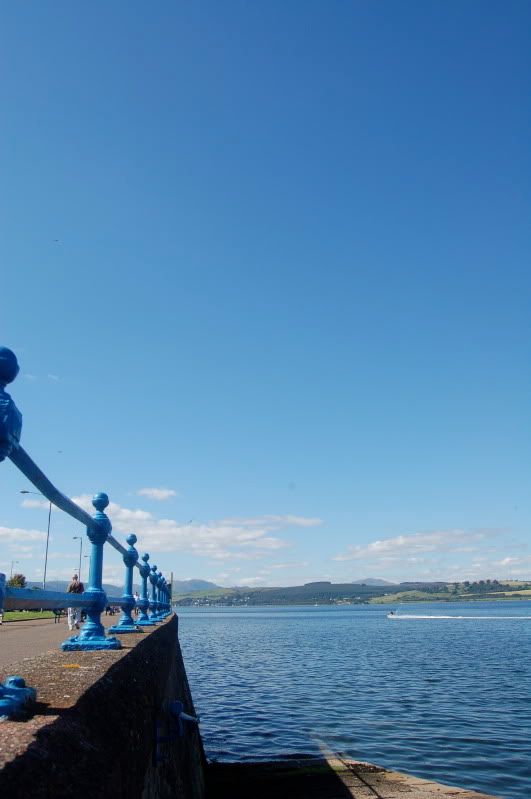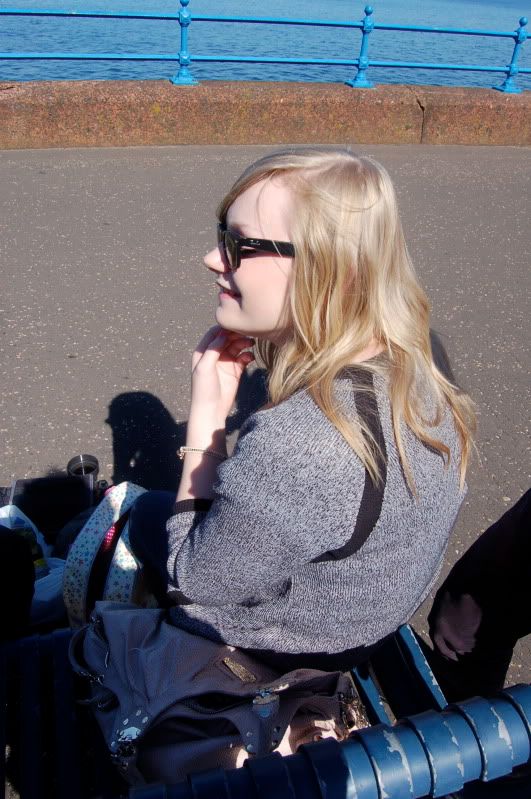 beautiful sister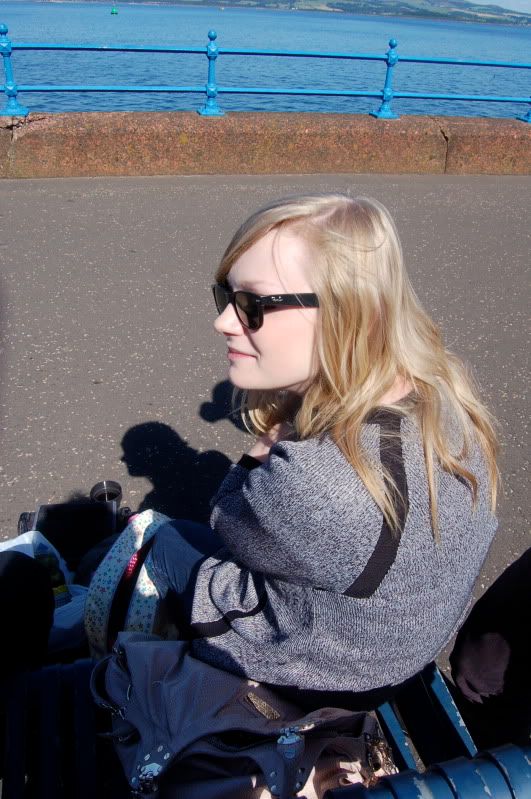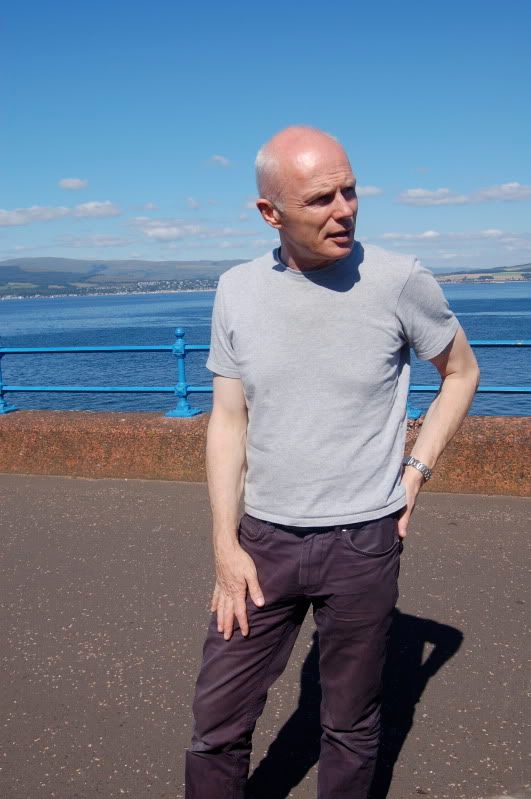 (just over two years ago, the day after my gran's funeral, we went to greenock and i took this photo of my brother. its uncanny how similar my isn't it?)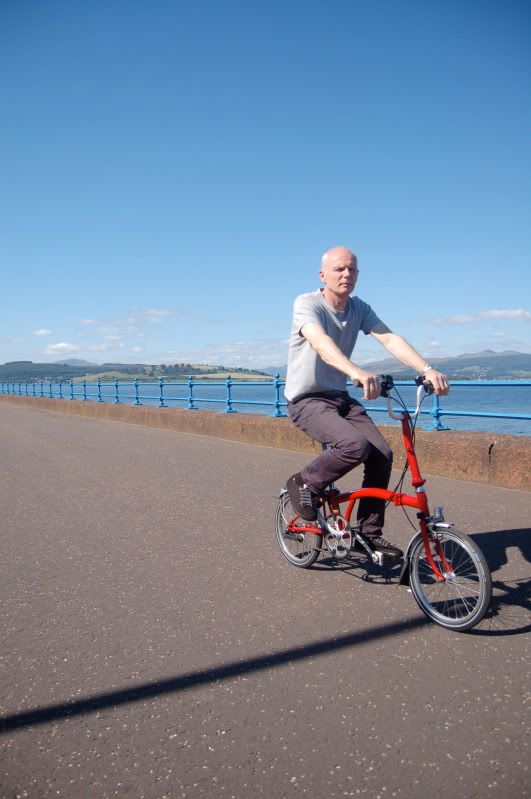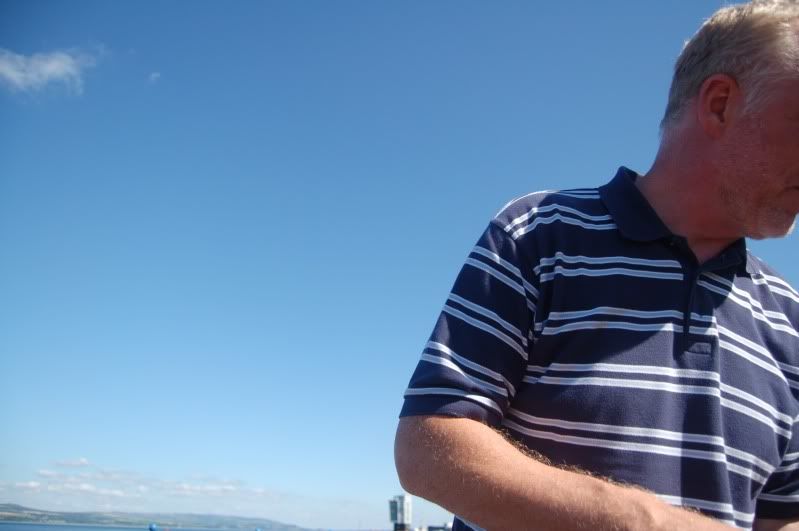 love you grandpa. you look like an old turtle in this which only makes me love you more!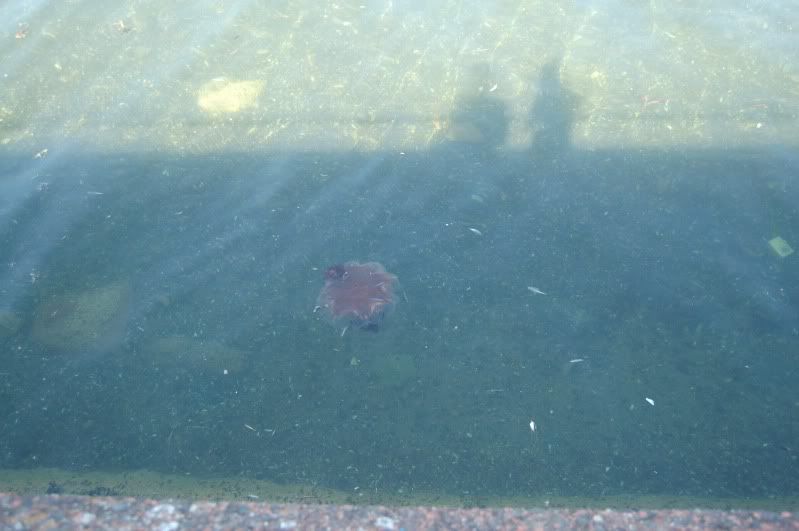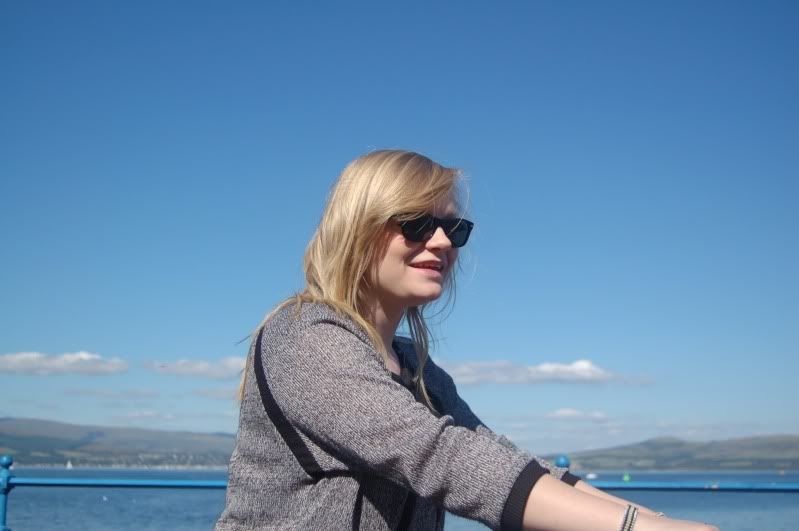 i was tired when i got home so i just lay in bed looking at beautiful shoes online and watchin the l word.

anyway i am off to buy my train tickets to london...and to get my bike fixed!
xx